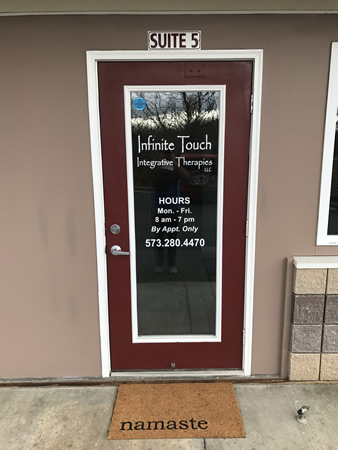 Infinite Touch Integrative Therapies, LLC

CALL FOR AN APPOINTMENT
We are honored to be part of your journey to a healthier, more fully integrated you.
Continuing Education
CranioSacral Therapy Study Groups
First Tuesday of Every Month at 6:00 PM
$10 per Person
If you've taken CranioSacral 1 or higher, you're invited! We are excited to offer a CranioSacral Therapy study group that is officially registered with The Upledger Institute. We hope you'll join us for this fun, interactive, laid-back opportunity to practice your craft! Contact Darin Puppel at (573) 280-4470 for more information.
At Infinite Touch Integrative Therapies, LLC, we firmly believe that the best way to improve our businesses and ourselves as therapists is to always learn more about our craft, the body, and the human experience. It is our goal to create a curriculum that guides therapists to become the best versions of themselves and to bring top educators with incredible ideas to the Lake Area. As we continue to grow, we will be reaching out to the therapeutic community to learn what you would like to see made available in Mid-Missouri.
We are excited to expand this aspect of our business in the near future!